This is not an official Classic Creepy Comic Cover posting here, but rather a tidbit for you to nosh upon, Gentle Reader, as I prepare the magnum opus for this here Christmas season. But I would be remiss if I didn't pass along a delightful little morsel (I must be hungry) that I happened upon through the referral of a friend's blog. I'm guessing most of you are quite familiar with the EC tale "And All Through the House...," a yuletide tradition since its appearance in the March 1954 issue of

The Vault of Horror

, especially after its adaptation as part of the 1972 Amicus anthology

Tales of the Crypt

, as well as being one of the charter installments of the HBO series of the same name, first telecast in the heat of Summer 1989. Now, here's the inimitable cover provided by soon-to-be Editor of

VoH

, Johnny Craig...


(I've always found it interesting that the actual story, written and illustrated by Craig, flips the image that you see here. It's the

wife

who commits the murder, and then must grapple with the psychotic Santa. So, is it more misogynistic to have the woman as victim, or as homicidal harridan? Discuss.) Anyhoo, it turn out that this is one of the covers recently

homaged

by the irreverent and essential Fred Hembeck in a series of re-workings of iconic comics...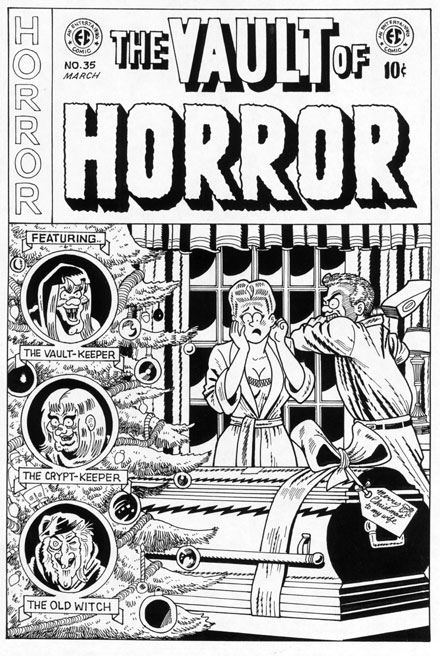 Fred tells the story of how this artwork went unsold, but his website does not list this as one of the pieces he is offering to the market anymore, so I'm guessing he found a taker. Wouldn't this make for a charming Christmas card, especially for your friendly local cleric or law enforcement official? They'll be sure to keep an eye on you...and the missus...